Keep checking back for updates on latest news and events!
---
Stoney Creek Newspaper - Article
The Hockey Show TO - Event September 10th / 11th 2016
SniperSkin - Guide to Innovative, Cool Hockey Gifts
OFFICIAL PARTNERS
Sniper Hockey is pleased to partner with the following hockey organizations to further help younger hockey players become better! Check out some of these amazing hockey development opportunities!

Excel Hockey Group

offers a summer league dedicated to providing player with a unique summer hockey experience. Their goal is to help kids from across the region development their hockey skills and knowledge while establishing friendships through hockey that will last a lifetime! They provide exciting 3v3 hockey league during the dog days of summer (July/August) leading into the winter season.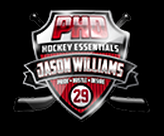 PHD HOCKEY

- Jason Williams' continued and lengthy professional hockey career is the result of hard work, resiliency and passion for the game of hockey. Jason will provide insights into

player development

in all aspect of the game. Players will leave camp not only with

improved skill sets

, but

improved mindsets

for elite level hockey!



CREATIVE HOCKEY DEVELOPMENT
- was developed by Dusan Kralik and Daniel Erlich who specialize on all levels of skill development and are excited to provide individual, group, tea, and international training with customized programs. This new business is fresh, full of energy, and excited to help players improve and succeed in their hockey careers while having fun!